25
November
With the winter months ahead, rising energy costs and many of us starting to work from home again, you might be worried your heating bills will go up. But there are ways to maximise your heating, keep warm and keep energy costs down. Read on for our top tips.
1. Keep your heating at a steady temperature
Adjust your thermostat down by one or two degrees to keep the temperature regulated. This is more efficient for keeping you warm and could reduced your energy bills by around £80 a year.
If you are out at any point, use the thermostat and timer to heat your home when it's needed. Don't keep it constantly very low, as this is not actually very efficient.
2. Add thermostats to every radiator
With a thermostatic radiator valve on each radiator, you can personalise the temperature in every room. Keep the thermostats turned up in rooms you use more frequently but turn them down in rooms you don't.
The thermostats adjust the flow of water to your radiators, according to the temperature in the room. So, they ensure you're not using more water or heat than needed.
3. Close internal doors
Keep heat in the rooms you want to stay warm by shutting the door. Similarly, close doors in rooms you don't want to heat, to stop cooler air mixing and cooling the overall temperature down.
4. Use curtains and blinds
If you have curtains or blinds, use them. Curtains are especially helpful for keeping the heat in (or out in the summer!). As it's getting darker much earlier, draw the curtains as soon as light starts to fade, to keep the room warm and prevent drafts.
5. Bleed your radiators
If you bleed your radiators regularly, it will help prevent cold spots developing. Your boiler will need to work harder if trapped air or sludge gets in the radiators, producing the cold spots. This makes your energy bills more expensive as well as not heating your room!
Regular radiator bleeding helps to keep your heating system clear, preventing damage as well as reducing your energy bills.
6. Keep vents and radiators clear
Don't block your radiators or heating vents with furniture or laundry. The heat will go to them instead of your room! Move furniture away from radiators to allow the warm air to circulate and dry your wet laundry elsewhere.
If you don't have a tumble dryer, a heated airer is efficient and inexpensive to run. This also prevents damp and mould building up, which can cause you other problems in your home.
7. Claim working-from-home tax relief
If you're having to work from home because of Covid-19 or other reasons, you may be able to get £6 a week tax relief, which can help towards your energy bills. See the Government's website for info on eligibility and how to claim.
8. Keep your boiler maintained
Of course, keeping your boiler in tip-top condition is the best way to make sure you have energy efficient heating for your home when you need it. Be sure to contact us to get your annual heating service booked in.
Why not consider one of our heating service plans? Our service plans will help you maintain your heating system and spread the cost of your annual service and any repairs.
We offer three levels of cover to suit your needs:
Basic Plan – ideal if your boiler is still under warranty
Standard Plan – covers for your annual service and labour costs
Advanced Plan – includes your annual service, labour and parts.
We can also assist you in specific add-ons for your household electrics and gas fires, as well as landlord options.
See our Service Plans page to find out more.
At Stevenson Heating, we are Gas Safe Registered heating installers. Contact us on info@stevensonheating.co.uk or request a callback to find out more or get a quote for improving your heating in your home.
28
January
Identify A Frozen Condense Pipe
If temperatures drop to freezing and remain there for a day or two, some boilers may suffer from a frozen condense pipe. This is likely to be the case if your boiler has stopped working and:
The outside temperature is below freezing and has been for 24 hours or more.
The condense pipe from your boiler (the white plastic pipe that connects the boiler to a drain or soak-away) is outside.
The external condense pipe is 22mm in diameter (though it can also happen with bigger pipes in very cold weather).
The boiler tries to start but quickly stops or locks-out.
How To Thaw The Pipe
Use one of these methods to safely thaw your condense pipe:
Pour warm water on the frozen condense pipe. However, do not attempt this if the condense pipe is located above ground level, and do not use boiling water, only warm water.
Put a hot water bottle onto the affected pipe.
Get a heat wrap and wrap it around the condense pipe. These are usually used to treat muscle injuries and you can buy one from your local pharmacy.
Once your boiler is running again, contact your installer to check it is all working correctly. They can also advise you on insulating the pipe to prevent this problem occurring again.
The following video explains in more detail: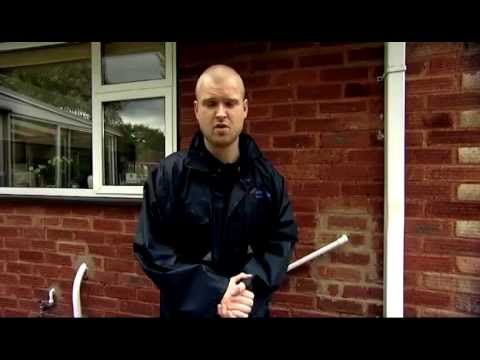 Does My Boiler Have A Condense Pipe?
Boilers older than 15 years usually do not have a condense drain pipe.
A recent, modern boiler will either not have an external condense pipe or the external pipe will be 25mm (1 inch) or more in diameter, meaning it's less likely to freeze.
If you're not sure, contact us and we can advise you.
A Solution For Preventing Frozen Condense Pipes
Boiler manufacturer Worcester Bosch has launched its CondenseSure product, which protects your external condense pipe and prevents it from freezing. We can fit one of these for you. Give us a call to arrange it.
If you would like help to ensure your heating system is working properly or to fix your frozen condense pipe, our team of heating and plumbing engineers are available to help. Call us 020 8462 8822 or request a callback to arrange a visit.
20
December
As temperatures start to creep downwards, many people will reach for the thermostat this Christmas in a bid to stay warm and ward off the risk of frozen pipes. But there are plenty of other ways to ensure your home stays snug and safe over the festive period. Here we share our top tips to help you stay warm, prevent plumbing problems and save on your heating bills this winter.
Keep it Closed
Drawing your curtains in the evenings is one of the easiest ways to keep the warm air in and the cold air out. Check there are no gaps in the curtains to ensure they are as effective as possible. Keeping internal doors closed and windows shut will also help to keep the heat in each room.
Clear the Radiators
Blocking the radiators with furniture and laundry means the heat goes into drying your clothes or the back of the sofa instead of warming your home. Make sure all radiators are free from items that could absorb heat that is meant for you. Also check that your radiators are heating to the top. If not, grab a radiator key and bleed each radiator to release air that has built up inside.
Insulate, Insulate
If you insulate your home correctly, rooms will warm up more quickly and stay warmer for longer. Everybody stays warm and you save on the heating bills. Insulating your loft is the number one place to start, as you lose around 25% of heat through your roof. If you have a hot water tank, insulating it will keep the water warm for longer.
Timing's Everything
Using timers and thermostats mean that you only heat the home when you need to. Many people believe that leaving the heating on a constant low temperature is more energy efficient. This is not so, as it means your house is being heated when no-one's home and is not warm enough when they are.
Protect your Pipes
Keeping your home warm is the best way to prevent frozen and burst pipes. Fix dripping taps as they can be first to freeze when the temperature falls. And, just in case the worst does happen, make sure you know where to turn off the water supply. The internal stopcock is usually located under the kitchen sink, but is sometimes found elsewhere, such as in the hallway.
Going Away
Going away for a few days can mean your home is at much greater risk of frozen or burst pipes if the temperature dips. Follow our tip above to ensure your pipes are protected. While you're away, you can leave the heating on a low setting or set the timer. If you're away for a longer period, it may be a good idea to shut off and drain the water system. Your pipes can't freeze if there's no water in them!
Think Safety
Have the boiler and central heating system serviced at least once a year by a qualified and registered Gas Safe engineer, such as our engineers. Look out for black marks or stains on or around your appliances. This can be a sign something isn't working properly. Always investigate if you spot a yellow flame in your boiler instead of the usual blue one. Fitting an audible carbon monoxide alarm will give you extra reassurance that everyone is sleeping safe and soundly at night.
If you would like help to ensure your heating system is working properly, our team of heating and plumbing engineers are available throughout the Christmas period. Call 020 8462 8822 to arrange a call out.